856-600-0951
Drug And Alcohol Treatment In An Outpatient Program In Cherry Hill
Every patient embarks on their own trail to drug and alcohol recovery, and you have a right to treatments that fit your unique experience. At The Counseling Center at Cherry Hill, we present several treatment programs to give you the therapy you are in need of for addiction or mental illness. Within our Outpatient Program in Cherry Hill, you'll discover empowering individual and group therapy that allows you to stay sober while going about your everyday life.
Who Might Gain From Our Outpatient Program In Cherry Hill?
Our Outpatient Program (OP) is a drug and alcohol use treatment program for Cherry Hill area adults age 18 and older. This program provides substance use and mental health counseling for people who need ongoing support but not 24-hour inpatient care. Many of our patients have completed the detox process or inpatient rehab and want additional help conquering addiction.
When you call The Counseling Center at Cherry Hill to explore your treatment options, we will schedule a complete assessment to get a better understanding of your substance use and medical history. Our experienced clinicians utilize this info to decide if OP treatment -- or an alternative treatment program -- will be beneficial. We strive to give you customized substance use and mental health services specific to your requirements and recovery targets.
Maintain Your Regular Lifestyle While Attending Substance Use Therapy
Unlike inpatient detox and rehab centers, The Counseling Center isn't designed for 24-hour residential support. Alternatively, you'll get skilled support during the day or evening while still living at home. Outpatient treatments let you work and take care of family responsibilities while moving forward in your recovery.
As part of our Outpatient Program for Cherry Hill, we'll collaborate with you to create a personalized plan of treatment. This approach helps you gain an understanding of the triggers and trauma that affect your mental health and substance use. Keep in mind, your individualized plan could be updated as you proceed through the Outpatient Program.
Why Seek OP Treatment At The Counseling Center?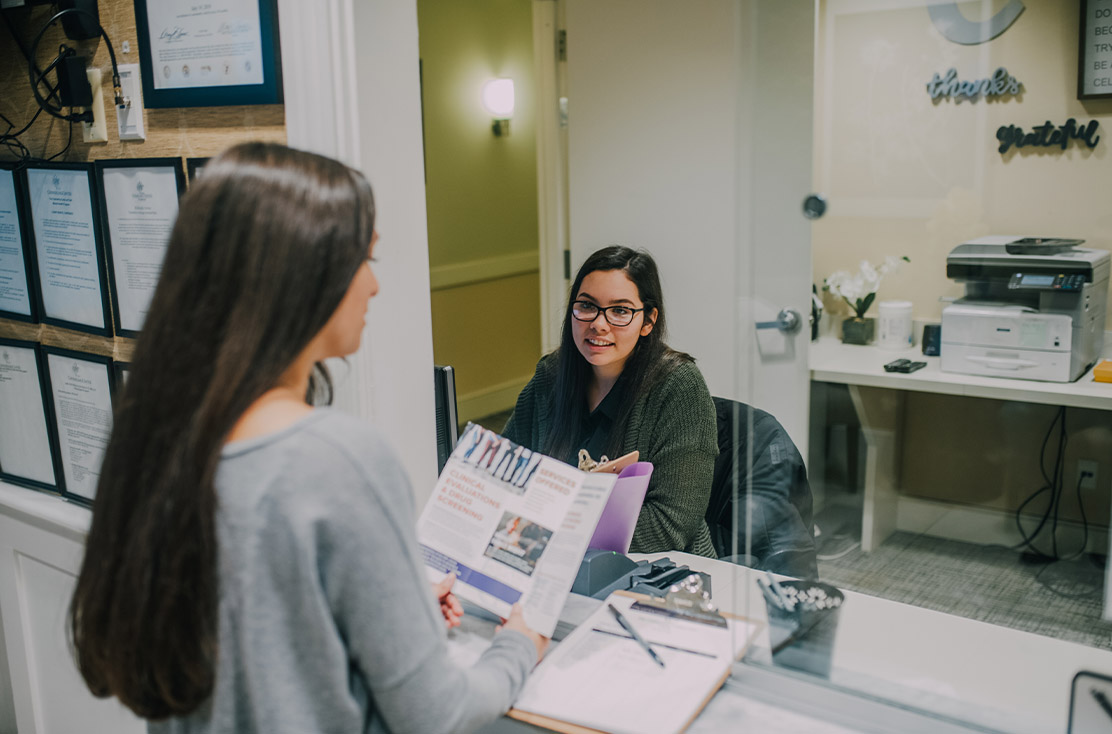 All of our services at The Counseling Center are intended to help you overcome substance use and address the mental health disorders that could led to it. Guided by licensed therapists, you'll be able to:
Continue drug and alcohol use treatment while living at home
Perform your job and take care of your family while helping yourself
Obtain support for both the physical and mental facets of addiction
Steer clear of relapse with regular sobriety support and Medical-assisted Treatment (MAT)
Build a strong community support group of peers and skilled therapists
Fight Substance Use At Its Roots In Outpatient Therapy
Drug and alcohol use frequently arises from fundamental mental health. To properly treat drug and alcohol use, we must also manage these co-occurring disorders. The Counseling Center uses evidence-based therapy to provide the best addiction care possible. Our Outpatient Program depends on both group and individual therapy to help you improve your mental health and conquer substance use|.
Our group therapy sessions are led by experienced counselors and generally include 5-15 individuals. In this group setting, you'll:
Discuss the challenges of substance use disorder with fellow participants
Gain an understanding of how to improve mental health
Reflect on the experiences of others in recovery
Create encouraging bonds
Our OP in Cherry Hill also includes individual therapy. Talking individually with a therapist in a controlled setting gives you the ability to examine your unique difficulties and find solutions customized to you with no feelings of judgment. Our therapists utilize proven methodologies to address the mental health disorders and traumatic experiences that often prompt alcohol and drug use and help you cultivate techniques for coping with life without resorting to alcohol or drugs.
Get Started In The Outpatient Program At The Counseling Center at Cherry Hill
Whenever you or a member of your family needs care for an alcohol or drug use disorder, help is available now. Contact us at 856-600-0951 or fill out the form below. You'll receive an immediate response no matter the day or time. The Counseling Center is ready for you.